Him and her Halloween costumes: Being able to rock amazing couple costumes is one of the best perks of being in a relationship! Have you decided what you're wearing this year yet?!
Halloween is that time of the year that you get to be creative and match costumes with your boo. There're so many options, you can choose to look sexy, funny, or just casual. Either you're going out with friends or just staying in and chilling together, picking a costume can be so much fun!
It's a great opportunity to do something together, even if it's just for an Instagram picture! It will still be super worth it and it can become your new tradition.
Now grab your bags and let's go trick or treat for some Couple Halloween Ideas!
Cute Couple Halloween Costume ideas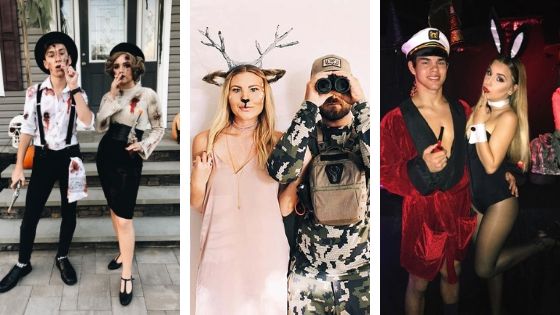 If you and your partner are more into cute costume ideas you can try looking for inspiration in your favorite movies and cartoons. Here are some ideas we came up with :
– Sully and Boo, from Monsters Inc.
This Halloween costume idea is perfect if you're looking for a cute and easy costume. You can give your own twists for the characters, Boo wearing a cute bodysuit with the lilac leggings? WHY NOT, GIRL? Play with the possibilities and make sure to take a nice pic for us!
– Ellie and Carl, from Up
This costume idea is so sweet! If you watched the movie you know that their love story was very touching and proof that love never dies. This costume can be easy to DYI if you're on a low budget! So, grab some balloons and glasses and you're all set!
– Carebears
I absolutely love the idea of dressing your partner as a carebear! It will look absolutely cute and you will most definitely get some soft looks! Choose your favorite bear and dress on.
– Peter pan and Wendy
A Disney classic! Almost every Disney inspired costume is most likely to be adorable! You can adapt this costume and give it a modern twist! Use your imagination and have fun.
– Cosmo and Wanda, from The Fairly odd-parents
This Couple Halloween costume idea is perfect for a MAGIC Halloween! It's super cute and fun. You will probably enjoy dying each other's hair and making your own wands! This will look absolutely cute on your feed.
Funny Couple Halloween Costume ideas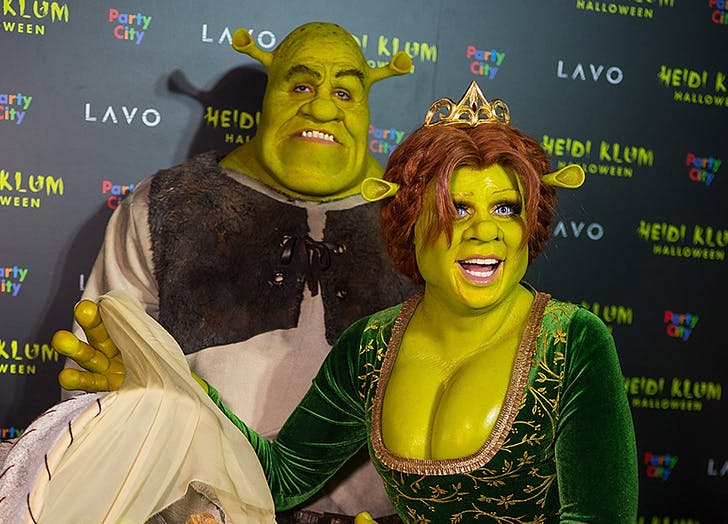 If you're not so into cute and sparkly costumes and want to crack some laughs from your friends, don't worry! We got your back.
Funny costumes are one of my favorites because you get to get creative and personal when choosing what to wear. Here are some fun ideas you can try:
– AVOCADOS!
Yes, you read it correctly! You can be each other's half of the avocado! You can go further and use green paint all over your body to be even more accurate.
– PB and Jelly sandwich
I mean … why not? Right? Pb and jelly sandwiches are just like pizza and coke, burgers, and fries … A PERFECT MATCH.
– Willy Wonka and Violet, from The Chocolate Factory
This costume is definitely going to crack some laughs! You can add some personal touches and make it even funnier. A must if you want to get all the attention at the party.
Sexy Couple Halloween Costumes
If you want to sparkle Power Couple vibes, then you should probably choose a sexy and vibrant costume. It's fun to create your own costumes, and this is the perfect opportunity to use that sexy lingerie you haven't worn in months!
Time to open up your lingerie drawer and pick your favorite pieces!
– Angel and Devil
There are SO many possibilities with this costume! You can wear a cute body-suit and stockings while your partner tries a sexy tuxedo! It's a classic… But it's like everyone says … "A classic never gets old".
– Adam and Eve
Lingerie time! Pick a green matching set and rock that body, girl! This costume idea is sexy for obvious reasons: you get to wear lingerie out and call it a costume!
– Superheroes, or villains!
Choose your favorite heroes or villains and match them with your partner! You can be the villain while your partner plays the hero part! Use your creativity and choose the costume that best matches your personality. I'm sure you both will look amazing!
Halloween is a great season to get out of the routine and have some fun! So, choose your favorite costume and go party! Don't forget to take pictures and enjoy the process!