Hot maid costume: It can be so sexy!
Back in the 19th century, French maids would wear a black and white dress with an apron around their waists on their daily basis. With time, the uniform started to be used in theatrical dramas and furthermore in between four walls.
Nowadays, the French maid costume became highly popular between women and men! To go to costume parties, to surprise their partner in the bedroom, or even to make videos for social media. The hot maid costume is definitely one of the biggest fetishes and fantasies among couples, it's a cliché! But as we always like to say; it is only a cliché because it worked many times!
If you have an account on the main social media platforms, you may have noticed that the sexy maid outfit is trending everywhere! Men and women are dressing up and making amazing videos boosting their confidence and gaining followers for it. If you're not sure why it's pretty simples to explain. It's a simple costume but that carries tons of taboos with it! It's kinky and sexy, and it seems to bring a lot of attention to whoever's wearing it.
If you're still wondering if a sexy French maid costume is a good idea, you can stop right there! Here are different ways to use and style a hot maid costume.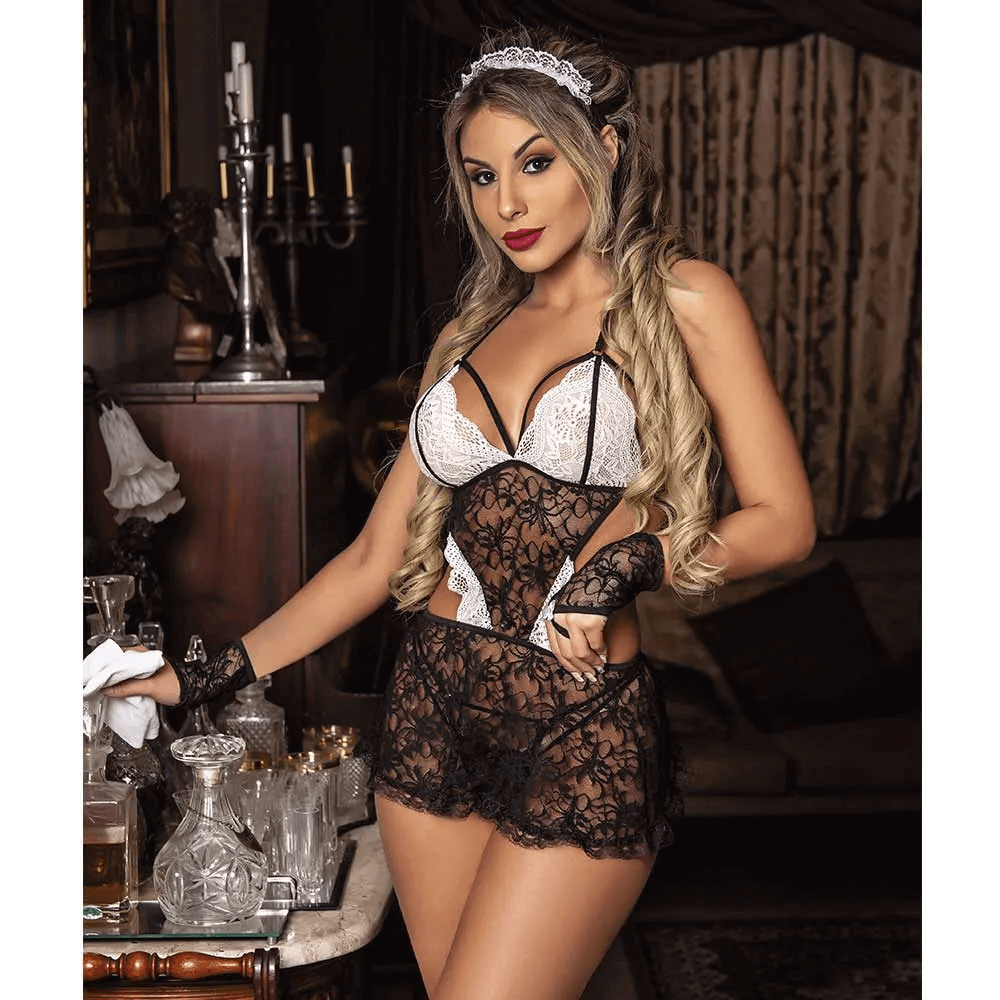 Make it steamy sexy!
There's no better way than incorporating the sexy maid costume into your foreplay! So many people are turned on by the idea of cosplaying and roleplaying. Dressing up as a sexy French maid will definitely spice things up with your significant other!
Don't levitate away from the maid costume because you think it's too cliché, because it is not just a "cliché". It's a classic.
If you are not sure your partner will like it, try talking to them before-hand and discuss your ideas. There are many different ways of wearing a sexy maid outfit! You can rule your own style and make it the most comfortable for both of you.
2. The best fit.
When it comes to wearing a costume, and any costume, you can choose to go different ways. There are many variants to a maid costume that you can decide from.
You can go with a classic black and white dress accompanied by the apron, or you can spice things up and look for a piece that shows more skin, perhaps a modified version of it that looks more like lingerie. Really, when it comes up to different designs and styles the sky is your limit, babe!
3. Style your sexy maid outfit!
Either you're going to a party or surprise your partner, you can always add your own accessories to make it look more preppy! Perhaps a stiletto high heel, or high-knee socks! It is really up to you!
If you feel like it, try researching for different make-up tutorials and create a completely different version of yourself. Don't be shy to be bold. Create and recreate until you're happy with how you look.
Toys and sexy accessories like hand-cuffs are also a great idea if you're looking into role-playing. Keep an open mind and I'm sure you will find just what you need.
Another great accessory you may like is a maid tiara! It will for sure complete your hot maid look.
4. Improvise.
It is okay if you didn't find the exact costume you were looking for. You can always improvise and make it work!
If you have the apron, maybe you could just wear a fancy black bra with it! Don't worry too much, after all, this costume is supposed to bring you joy, not stress. So, relax and roll with what you have.
5. It is perfect for everybody
The sexy French maid outfit is perfect for everybody! It is one of the most popular costumes for a reason! Because there are so many different styles of it, it can suit all tastes and body-types.
If you're for example, too shy or not ready to try something bolder, you can always choose a classic dress. Or on the other hand, if you want to spice everything around you, there are always lingerie's that imitate beautiful and sexy maid costumes.
No matter how you look, or what you may need the outfit for, there will always be a great variety for you to choose from.
For a uniform from the 19th century… it survived quite a long path, and somehow managed to remain a sexy trend to this day. The maid costume is one of the most popular costumes among adults, and it will make you feel sexy and confident with yourself.
Now wrap up all this information and go get yourself a hot maid costume! It will definitely bring you a lot of joy and incredible moments. We are sure you won't regret it.