Sexy Little Red Riding Hood: We see it everywhere, and anywhere! Costumes are becoming more and more trendy among women of all ages! And you're probably asking yourself where did all of this costume fixation start.
Back in the ancient Celtic festival of Samhain, people would set bonfires and wear costumes to scare off ghosts. Over time the festival evolved to what we know today as Halloween! Carving pumpkins, gathering people, eating treats, and wearing costumes is the key to any Halloween commemoration.
As time goes by things evolve and transform, fashion trends, treats, and even costumes actually carry meaning to them, they are more than just a part of regular old living, it's a statement!
With the passing of the years, society freed itself from various restraints, and women, in general, started experimenting with the freedom to be whatever they desired. Nowadays, while still facing challenges, women are empowered to seek and be what they wish. Because of that fashion changed and is now a way to express yourself and your beliefs.
A free woman can be sexy without the fear of being judged! And with that in mind, costumes evolved from silly characters to empowering sexy outfits that can be worn more than just one time of the year.
Costumes became a sexy symbol in bed and opened doors to numerous adventures in between four walls.
Today We'll be talking about one of all times favorites, the Sexy little Red Riding Hood costume.
Little red riding hood costume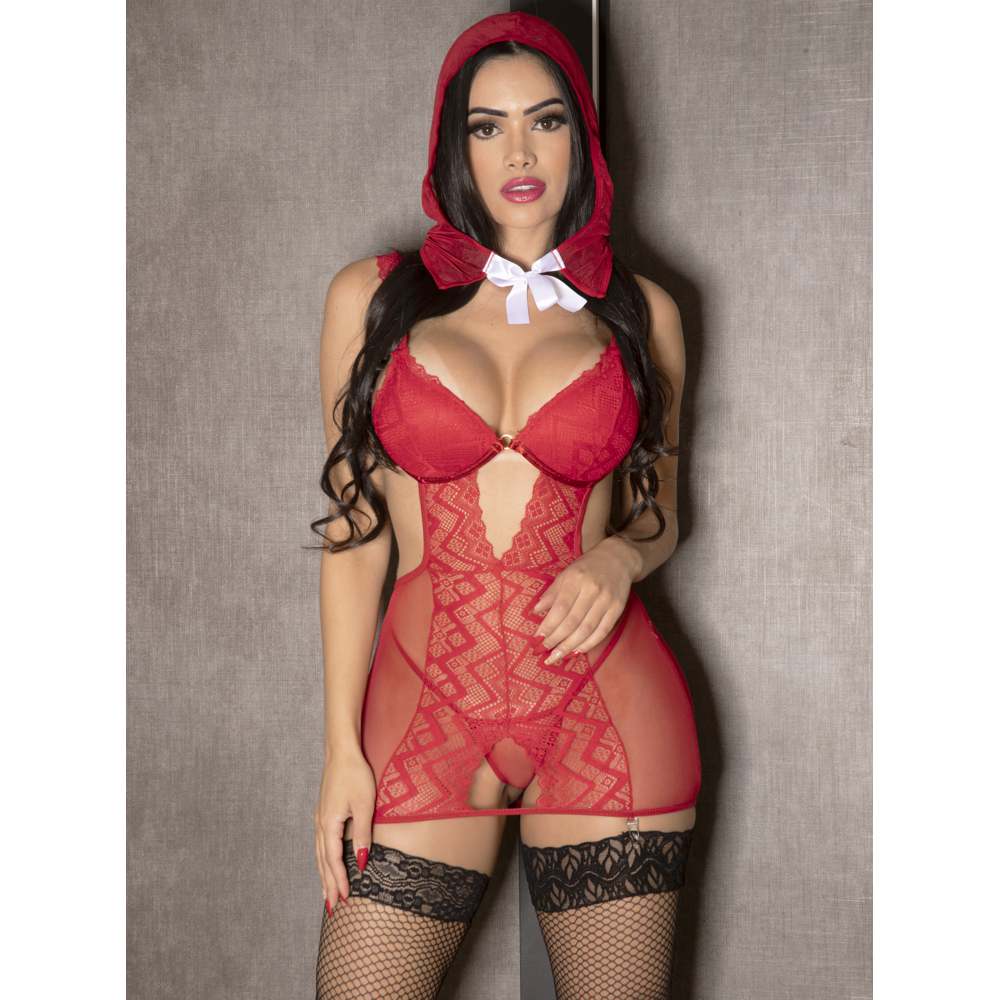 The tale from the little red riding hood is one of the most famous around the world, it's the story about a girl who fights a big bad wolf and stands victorious. If that's not great enough (which should be), the red riding hood also wears a beautiful and iconic hood, which can be worn in so many ways. With a dress, a skirt, sexy lingerie, or even with your birthday suit!
This costume is perfect because it has so much versatility to it! If you have a costume party, you will easily stand out, or if you want to surprise your boo and spice things up in bed this costume does it all!
The color red.
One of the reasons why the little red riding hood lingerie is so popular among women is because of its color! RED.
Red Is known to be the sexiest color of lingerie. It easily goes with different skin tones, and always brings a charm of its own. Research all over the web shows red lingerie to be the favorite between both women and men. So, the sexy little red riding hood costume is a perfect fit for anyone who's in doubt.
The color red brings sensuality and femininity, and you can pair it with black to break it down a little bit and give a more mysterious vibe to it.
How to style a sexy red riding hood costume
This costume is not only popular because of its color and value of character. It is also an easy to compose costume.
There're so many ways to make this costume work! The only thing that's REALLY necessary is the red hood, and we can go from there.
To be sexy doesn't mean it needs to be full of little details. You can pick a bra and undie set in the color red, throw your hoodie on top of that and you're good to go. This is fun because you can add a lot of personality to your costume by choosing a piece that speaks to you.
You can wear a dress, a skirt, a baby doll, or a bodysuit to make your costume uniquely yours. You can mix red and black, patterns and textures, and accessorize them.
You can also wear the sexy little red riding hood costume more than once with different lingerie's underneath it! I promise it will bring all eyes to you!
Role-playing with Little red riding hood
One of the reasons why couples choose to bring costumes to their night fun is because It allows them to role-play and create new scenarios to explore together.
If you're looking for a fun experience that will spice things up between you and you're partner, wearing a costume can be the answer.
A costume like the little red riding hood can be perfect for role-plays because they already bring a whole storyline with them. You can remake the stories you know and add your personal touches.
Costumes in general are a fun way to bring diversity to the bedroom and experience new and exciting things with the one you love.
If you were unsure about which costume to pick, you should give sexy little riding hood a go! It's empowering and sexy, it will most definitely spice things up and make you feel like you're on top of the world.